Every widespread movement or initiative must have a central forum for maintaining unity of purpose and alignment of goals. In order to further the cause of Sustainable Green Environment Initiative, an annual conference shall be held.
This program will bring together subject matter experts, professionals from different industries, and other like-minded people with an interest in furthering the cause of a sustainable green environment.
The program involves:
Deliberations on chosen themes relevant to entrenching sustainability in diverse industries.

State of the Art discussions as it concerns Sustainability.
Sharing of ideas, information and the latest research discoveries on the best means to achieving a sustainable green environment within the attendants' respective localities and spheres of influence.

High level debates aimed at refining ideas and notions.

The annual conference will also serve as a medium for attendees to build their networks and leverage key relationships in driving the cause of achieving a sustainable green environment.
DIGITAL INNOVATIONS FOR DEVELOPING CLEAN TRANSPORT NETWORKS IN AFRICAN URBAN COMMUNITIES: A LEAP FOR CLIMATE ACTION
SUSTAINABLE GREEN ENVIRONMENT INITIATIVE
2022 CERTIFIED VIRTUAL CONFERENCE
Opportunity to Register for FREE
Learn More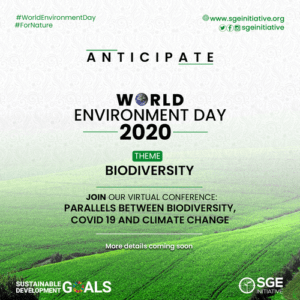 WORLD ENVIRONMENT DAY 2020
The 2020 annual conference held on the 5th of June, 2020 with over 300 participants in attendance.
Meet our Speakers!! You don't want to miss this.

√ Free tickets
√ Free Certificates of participation
√ Gain knowledge from Experts from various industries
√ Professionals, entrepreneurs, students, industrialists, climate activists...
√ Link in bio to register! pic.twitter.com/oQYeOx6kgB

— Sustainable Green Environment Initiative (@sgeinitiative) June 1, 2020